With food and Ivory both a little delayed, the "Feature Game", Tapestry was starting to look a bit doubtful. Ivory and the food both arrived eventually though, and Burgundy made haste with his ham, egg and chips while everyone else decided what they were going to play.  To fill in time while the eaters ate, everyone else decided to squeeze in a quick game of Ticket to Ride: London.  This version of Ticket to Ride is reduced in size and is designed be quicker to play, which certainly proved to be the case.  The game play is very similar, however, with players taking it turns to draw coloured cards or use them to place pieces, but in this version the Train pieces are replaced by Routemaster Buses.
– Image by boardGOATS
Although it is still high quality, the board is also smaller than in the full-sized versions, the players have fewer pieces and a maximum of four can participate.  As usual, players also start with a selection of ticket cards and successfully fulfilling these give more points, but woe betide any player who fails to complete a ticket as the points become negative, which can be very costly indeed.  In addition to these features, this new light version of the game also gives bonus points to players who manage to connect all the locations in an area. Not large numbers of points, but in a tight game it can make all the difference. And these games are often quite tight…
– Image by boardGOATS
Players started placing Buses very early in the game, and it wasn't long before it became clear that everyone was trying to claim routes in the same "south of the river" area.  Although Ivory eventually extended to the east, Lime broke ranks first and claimed a north west route.  Pine completed his routes early and went for more tickets a couple of times. Then before we knew it, the game was over as Ivory placed his last bus.  Placed Bus scores had Ivory way out in front as he had several of the long, four-bus routes, while Lime brought up the rear as he had been claiming mostly two-bus lengths routes.
– Image by boardGOATS
So it was looking like a bit of a "slam dunk" for Ivory.  Everyone had managed to complete an area or two and pick up the associated bonuses, but Ivory had actually managed to get the four point area with all his long routes in the east.  When the completed route scores were added in, Pine just pipped Green, but unfortunately for Lime he had failed complete his longest route causing him to lose eleven points.  The clear winner was Ivory though, and managing to complete three high scoring routes just increased his already substantial lead giving him a dominant win.
– Image by boardGOATS
With food just about done and the first game coming to an end, there was some debate who would play the "Feature Game", Tapestry.   This is the hot new game from Jamie Stegmaier, designer of Scythe and producer of Wingspan, so everyone knew what they were getting – amazing production values in a very solid game. In this case, the game is quite simple in terms of the number of rules, however, they combine together to make a much more complex game.  The idea is that on their turn, the active player simply either pay resources to progress their civilisation in one of the four directions (Science, Exploration, Military and Technology) and carries out the associate action, or they start a New Era for their people and collect Income.  It is how these apparently simple options interact that leads to a complex and deep game however.
– Image by boardGOATS
The game is played over four Eras, with each player book-ending their game with an Income phase.  Players choose when to take their own Income phases which has the unusual consequence that Civilisations can be in different Eras and even finish at very different times.  Advancing their Civilisation can have a wide range of consequences because each step along the four tracks is different and, in general, the further along the tracks the more powerful the action is.  For example, in the early stages of the game, a player taking the explore action might be able to place a tile on the central player board, which later may enable them to expand the are they control.  Later in the game, however, a player who reaches the end of the Explore track can move away from terra firma and explore Space, which can be very lucrative.
– Image by boardGOATS
After the usual debate over who was going to play, Black joined the inevitable trio of Burgundy, Blue and Ivory.  The game is asymmetric, so each player's civilisation has a different special power. For example, Ivory's civilisation, "Leaders", were to allow him to progress along one of the tracks at the start of each Era.  Black's "Merrymakers" also granted a bonus at the start of each Era, but this time it's according to three private progression tracks; the further up a track that the Merrymakers move, the more potent the benefit they receive.  The bonus received by Burgundy's "Chosen" would depend on his position on each of the four technology tracks at the start of each Era: where there were no players in front of him, he would pick up victory points equal to the number of other players in the game (three in this case).
– Image by boardGOATS
Not all civilisations give advantages during the income phase, however.  For instance, Blue's "Isolationists" gave her an advantage when colonising.  The game features a central board which represents the colonies' territories.  At the start of the game, the colonies are well separated by unexplored land.  The Explore action generally enables players to take tiles from the supply (though some are provided as part of the Income phase), and place hexes on the map next to territory they control.  When carrying out a Military action, players can take control of a neighbouring, explored hex, by placing one of their coloured markers on it.  If the tile is already occupied, it can be "attacked" with the second player simply placing one of their markers and tipping over the defeated player's marker.
– Image by boardGOATS
Each hex can hold a maximum of two pieces, so there is no come-back.  In general, players are also not able to place a second marker as a defense.  This means that players are naturally reticent when it comes to expanding and controlling the border regions as expanding can leave their border regions vulnerable by providing a path for the opposition to attack.  The Isolationists colony helps to prevent this by enabling the player to place a second marker on a small number of occasions.  Occupying territory is one way of scoring points.  Another is by improving a civilisation technologically.  This is done by taking orange Technology cards.
– Image by boardGOATS
Technology cards give no immediate advantage, but they give a bonus when they are upgraded, either as part of the Income phase at the start of an Era or as an action.  They also give points during the Income phase, but the number of points depends how developed their Capital is.  Each player has a personal play area that includes a Capital City board as well as an area to place their Technology cards, a space at the top to store buildings and the Tapestry Cards that give the game its name.  There are four types of buildings which start the game placed on four tracks that roughly correspond to the four types of advancement and yield resources: Markets (yellow), Houses (grey), Farms (brown) and Armourers (red).
– Image by boardGOATS
During the game, the buildings are moved to the players' Capital Cities, revealing bonuses that the player will get during the forthcoming income phases.  These bonuses include resources (money, people, mushrooms and power), but also victory points, additional terrain hexes, Tapestry cards and scoring multipliers.  These multipliers are critical:  players score points for the number of Technology cards, the size of the territory they control on the central map, and the number of completed rows and columns in their Capital.  The more buildings a player moves to their Capital, the more of these multipliers are revealed and the more points a player gets.
– Image by boardGOATS
In addition to their personal buildings, players can also enhance their cities with large buildings which are awarded to to the first player to progress onto certain spaces on the development tracks.  These special buildings are wonderfully over-produced and come pre-painted, really adding to the appearance and feel of the game.  As they are only space fillers, there is no question – they could certainly be replaced with simple card tiles and would have been had the game been produced a few years ago.  This is not a deluxe edition however; the added "bling" comes as standard and elevates the feel of the game above the ordinary (and unfortunately,  elevates the price too).  Unfortunately, these sculpts have very rounded corners which makes it a little hard to see what space they cover during play.  They are really gorgeous though!
– Image by boardGOATS
The key to the game is probably the resources though as progressing along the four development tracks, Science, Exploration, Military and Technology need to be paid for.  The price increases the further up the track the player gets as well, so running out of resources largely dictates when players will choose to start a New Era.  That said, if a player moves into a New Era before their neighbours, they get additional resources which can be just enough to encourage players to move on early.  Although it is clear that resources are important, the winner is likely to be the player that best leverages the advantages from their Civilisation.  Like all good engine builders, however, there are always more things to do than resources available.
– Image by boardGOATS
The game started slowly, with Blue taking an early lead largely thanks to her Civilisation giving her points as she explored and expanded her territory.  She was up against Ivory though, who was also progressing along the expansion track, though his progress was accelerated by his use of the Science development.  In the early stages of this development track the action is to move one space along another track dictated by by a roll of the Science die, but without taking the action.  This has the advantage of accelerating development (moving two spaces instead of one per turn), which increases the likelihood of obtaining the beautiful, big, special buildings and consequently makes filling rows and columns in the Capital easier.
– Image by boardGOATS
This is at the expense of increasing the cost of actions earlier in the game, on the other hand, the actions become more powerful and are therefore worth the price provided that the player can make the most of them.  One additional consequence of Ivory making an early dart up the development tracks was the damage it did to Burgundy.  Burgundy's "Chosen" Civilisation gave him three victory points equal for every track he was ahead on.  Ivory's rapid progress, increased by the power of his "Leaders" Civilisation, essentially annulled Burgundy's "advantage".  Burgundy's game was further stymied by his struggle to get resources to move things along, a problem that only got worse as the game progressed.
– Image by boardGOATS
As a result, Burgundy turned to Technology cards, but it took a while to get this alternative approach going.  Black meanwhile, kept things simple, concentrating on making the most of his Merrymakers and trying to expand to the centre of the map first.  In this, his life was made difficult by being sandwiched between Blue and Ivory who squeezed his options.  Blue made it to the middle first, and used her special power to prevent anyone else taking it from her and picking up the points for getting there second.  Black made good use of his Trap cards which he initially kept in case he was attacked, but then used instead of Tapestry cards to give him points.
– Image by boardGOATS
He started slowly as he built his engine, but it wasn't long before Ivory started to edge in front.  By the third era, he really started to push forward, Blue gave chase, but she was always chasing and when Ivory launched his Civilisation into space, the writing was on the wall.  He didn't quite manage to lap the players at the back and so spared their blushes, but he wasn't far off, finishing with a very creditable one hundred and eighty-five points.  It is clearly a game that needs multiple plays to understand and get the best out of, and everyone could see its potential, although Burgundy felt some of the Civilisations were more powerful than others.
– Image by boardGOATS
Meanwhile, on the neighbouring table, the others decided to play an old favourite,  Jamaica.  This was new to Lime and although Pine had played it once before, he couldn't remember it.  The game is a pirate-themed tactical race with beautiful artwork and quality pieces, where the winner is the player who best balances their position in the race with success at generally being a pirate doing piratical things. Each player always has a hand of three cards, and a personal board depicting the five "holds" of their ship, into which goods can be loaded during the game. Each round, one player is designated as "Captain" and rolls two dice, examines their cards, then announces which die will correspond to the "day" and which to the "night".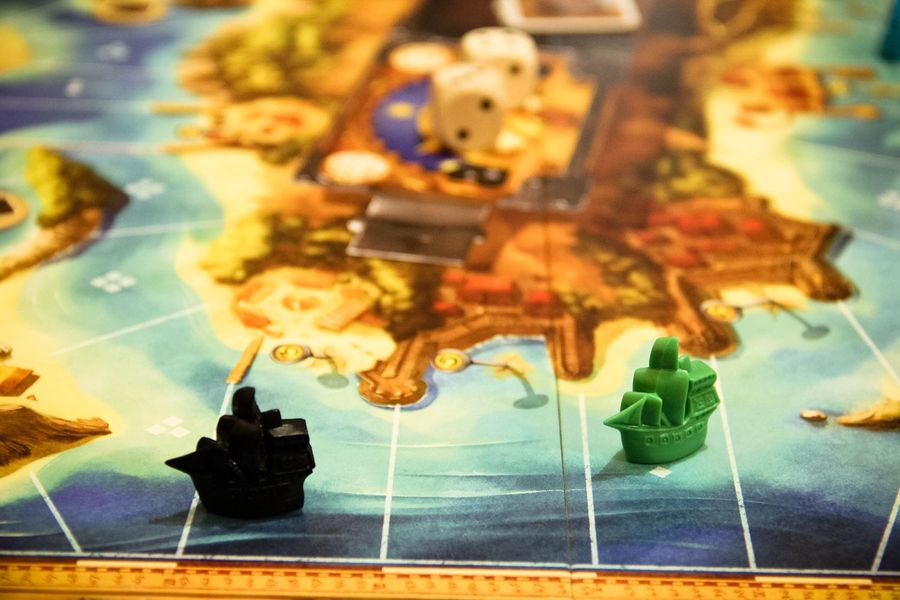 – Image by BGG contributor verminose
Each player then simultaneously selects and places it face down in front of them.  Each card has two symbols on it (corresponding to "day" and "night"). The symbols indicate either ship movement (forward or backward) or the loading of a type of goods.  The cards are then revealed simultaneously and resolved clockwise one by one, starting with the Captain. When it is a player's turn to resolve their card, first the "day" part, then the "night" part, multiplying the number of pips on the appropriate die by the  icons on the card to either move forwards (or backwards) by a given amount, or to load goods.
– Image by BGG contributor verminos
When they take goods (gold, food or gunpowder), Players must have space to store them.  If they do not, they must throw the contents of one hold (containing something different) overboard.  When moving, players pay depending one the space they finish on:  on a deep sea space the cost is food; in a port they must pay doubloons.  At a pirate's lair, the player can take a treasure token and draw a treasure card, (which can be good, or "stinky", "cursed" treasure), and if they are sharing the space with another pirate ship, they must fight.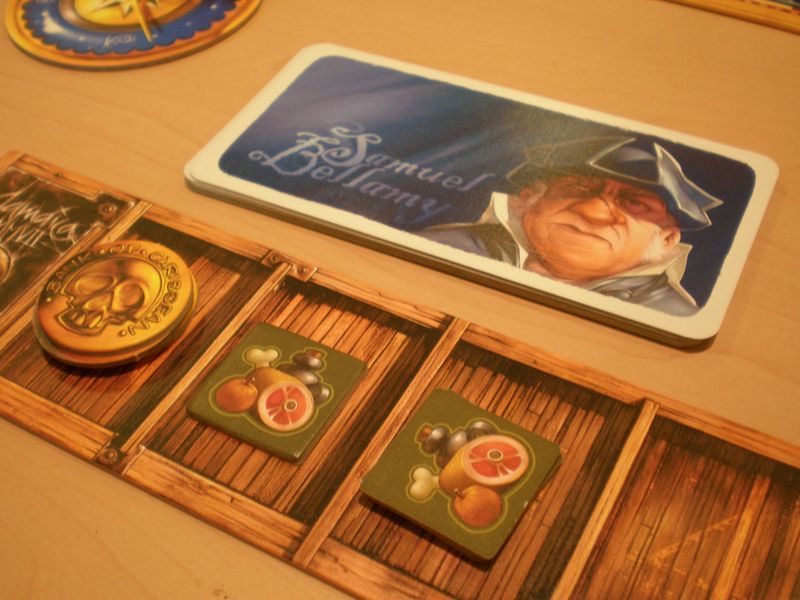 – Image by BGG contributor verminose
Battles are resolved with the attack die, but the attacker rolls first and adds to their total by discarding gunpowder. The defender then dies the same, though if either player rolls the special "star" it counts as a direct hit and that player wins outright and can take one holds worth of goods, a treasure card, or give away some "cursed" treasure.  The game end is triggered when a player's ship reaches the finish line, after completing one circuit of Jamaica when players receive different amounts of gold depending how far they were from the finish line when the race concluded. This is added to any gold gathered along the way  and the player with the most total gold is declared the winner.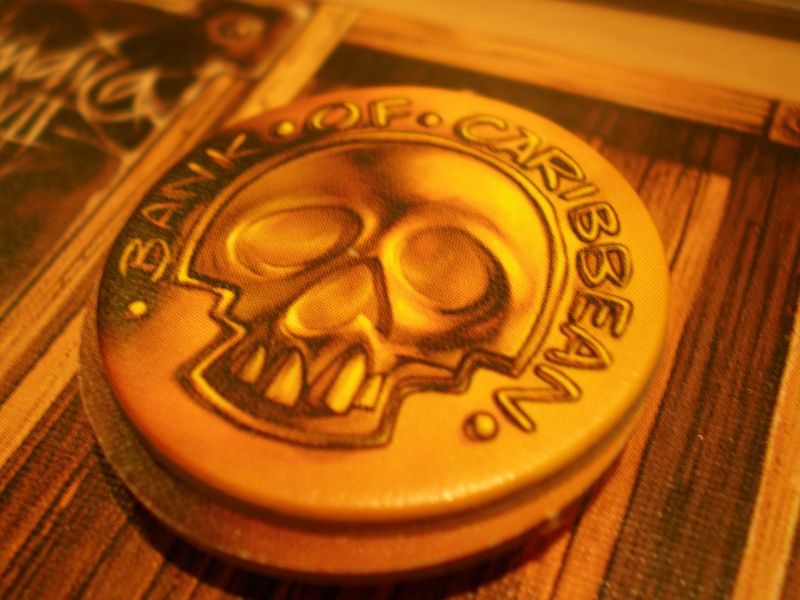 – Image used with permission of boardgamephotos
The race started very slowly (as is often the case) as players stayed in Port Royal and stocked up, but then everyone started moving forwards (and backwards) and fights very quickly broke out. With Gold and food changing ships and ships moving forwards and backwards, or in Green's case, backwards and forwards: he crossed the finish line from the wrong direction – but no, he couldn't win that way!   Pine was the first one to claim a treasure and then a second;  the map card enabling him to have an extra card in his hand to choose from, not that seemed to help him:  he still complained that he had poor choice of options. Lime was next, and then followed a period when everyone ended up attacking each other, so much that at least one player ended up in two battles during the same morning move.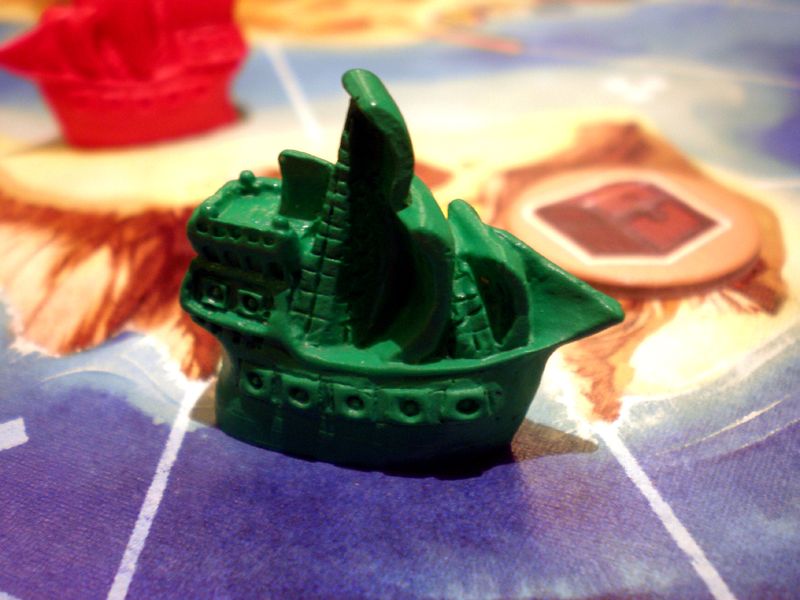 – Image used with permission of boardgamephotos
Once players had got around the first corner of the island things began to speed up (again, as is usual for this game). Lime led the way and round this part of the island, Chris started to hoover up the treasures and found himself with an extra hold.  It wasn't all good though, as became clear when he defeated a sneaky attack from Purple and took the opportunity of foisting a "stinky", cursed treasure onto her (and the associated negative points.  As the flotilla rounded the final corner, Lime was still out in front with everyone else not far behind. While everyone had full holds, Purple's ship looked more like a take-away van on a Saturday night, and no gold!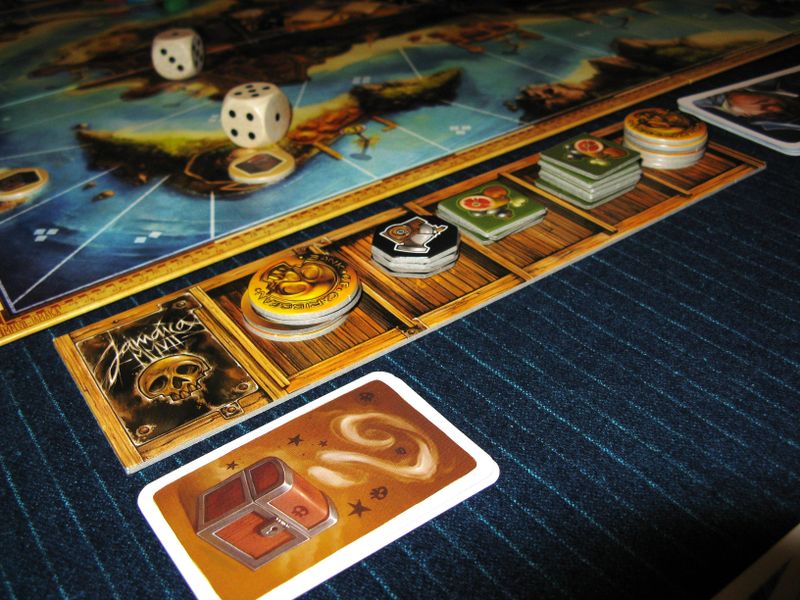 – Image used with permission of BGG contributor Toynan
Lime rolled a five and then a six when he was only three spaces away from Port Royal, but he played a double move anyway and finished the game. The rest of the salty sea-dogs were able to make use of that following wind and bring themselves across the red line into at least point scoring positions, but still some way off Port Royal.  The final scoring was looking quite good for Lime, but he insisted that he didn't think he would win, as he knew he had a minus five point "stinky" treasure.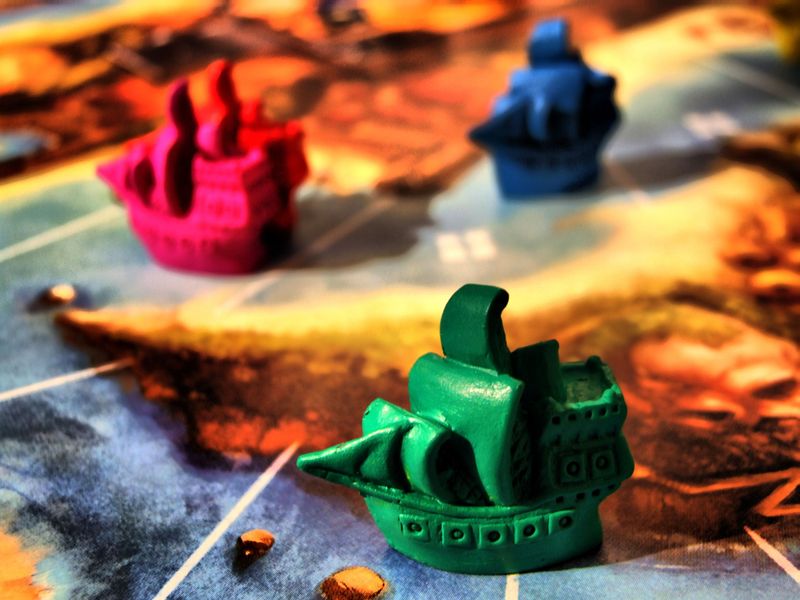 – Image used with permission of BGG contributor Ceryon
Pine and Green had finished just one space apart, had a lot of gold on ships and treasure cards.  Pine had the plus seven, and Green had three scoring treasures, but one was a minus three, so the scores were very close indeed.  Purple, unfortunately was almost lost at sea, only creeping across the line with no gold in her hold and only a negative treasure.  Otherwise, it was really close, but Green just beat Pine into second place with Lime just a couple of points behind.  Once again this proved how good a game Jamaica is, well balanced and extremely fun.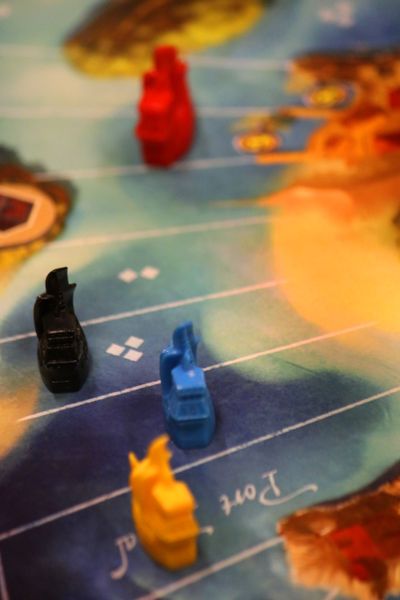 – Image used with permission of boardgamephotos
With Tapestry still under way, the group moved onto another, this time more recent, favourite, Kingdomino, albeit one that we've not played for nearly a year.  In this short game, players take a domino and add to the kingdom and then place a meeple on one of the dominoes on display for the next round.  When placing the dominoes, one of the two ends must connect to terrain of the same type already in the kingdom, or connect directly to the start tile.  Points are awarded at the end of the game by multiplying the number of tiles in an area of terrain by the number of crowns in the area.  Although we have the Age of Giants expansion, this time the group used the base game so all dominoes must fit in a five-by-five space (or be discarded) and bonus points are awarded for successfully placing all tiles and finishing with the start tile in the centre.
– Image by boardGOATS
Sadly, Pine made an unfortunate placement decision partway through and thus created himself a single space gap which meant he was not complete a five-by-five kingdom with his castle in the middle.  This was because hadn't caught the rule that the whole kingdom needed to be square so he'd ended up choosing a tile which was not as good as he'd thought and thus created even more problems for himself.  Everyone else completed their kingdoms so everyone got the full fifteen point bonus.
– Image by boardGOATS
Green went for a mixture of several smaller sections (including stone and sand), but none scored highly. Purple ended up with fewer, but slightly larger regions (wheat, water and forest) and a similar score to Green.  Lime on the other hand, concentrated on a couple of larger regions, water and forest, each six or seven spaces and with three crowns each they gave a healthy score. On top of that Lime had a few low scoring space regions to top off a very good score and take the victory by twenty points.  An excellent score, especially since it was the first time he'd played the game.
– Image by boardGOATS
Learning Outcome:  Game-play is very important, but component quality is important too.